Hooflyne van ons moderne konstitusionele ontwikkeling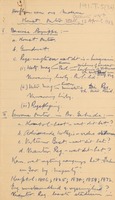 Author
Thom, Hendrik Bernardus, 1905-1983
Date Created
1943-04-13
1943-05-20
1943-08-19
1943-09-07
Format Extent
4 items.
Rights
This item is subject to copyright protection. Reproduction of the content, or any part of it, other than for research, academic or non-commercial use is prohibited without prior consent from the copyright holder.
Copyright Stellenbosch University
Abstract
Series of talks on the South African Constitution, delivered before HNP (Herstigte Nasionale Party) students, Stellenbosch 1943.