Four Outstanding Young South Africans (FOYSA)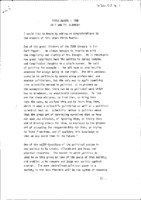 Author
Slabbert, F. van Zyl (Frederik van Zyl), 1940-2010
Abrahamowitz, Kelvyn
Norris, G.
Date Created
1986-08-12
1986-06-22
1986-07-17
Format Extent
5 pages
2 pages
1 page
1 page
Rights
This item is subject to copyright protection. Reproduction of the content, or any part of it, other than for research, academic or non-commercial use is prohibited without prior consent from the copyright holder.
Copyright Stellenbosch University
Abstract
Speech delivered at the FOYSA (Four Outstanding Young South Africans) Awards. Includes letters regarding the following: Letter of invitation, on behalf of Jaycee South Africa, to speak at the FOYSA Award Banquet on 1986.08.12. Letter on behalf of Dennis Lax; sends two complimentary tickets for the banquet. Letter on behalf of Dr Kelvyn Abramowitz; gives further details about the ceremony in Cape Town.
Collections