DC Esterhuyse Manuscript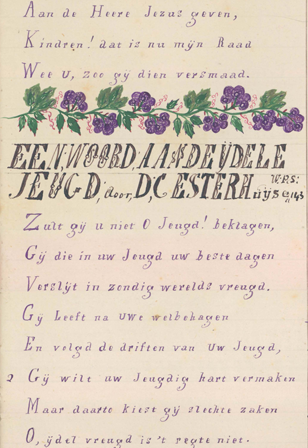 This collection of handwritten poems, embellished with flowers and calligraphy dates from 1885 and contains the poetry of DC (Daniel Christiaan) Esteruyse (1815-1897), a farmer from Sutherland. It is considered to be some of the earliest pieces of Afrikaans literary writing. It consists mostly of religious poetry, written for his family.
Items in this collection are subject to copyright protection. Reproduction of the content, or any part of it, other than for research, academic or non-commercial use is prohibited without prior consent from the copyright holder. Copyright Stellenbosch University.
Recent Submissions
Handwritten book of poems containing early Afrikaans religious poetry decorated with calligraphy titles and colour illustrations in between poems.