Cederberg, Clanwilliam, Dutch Reformed Church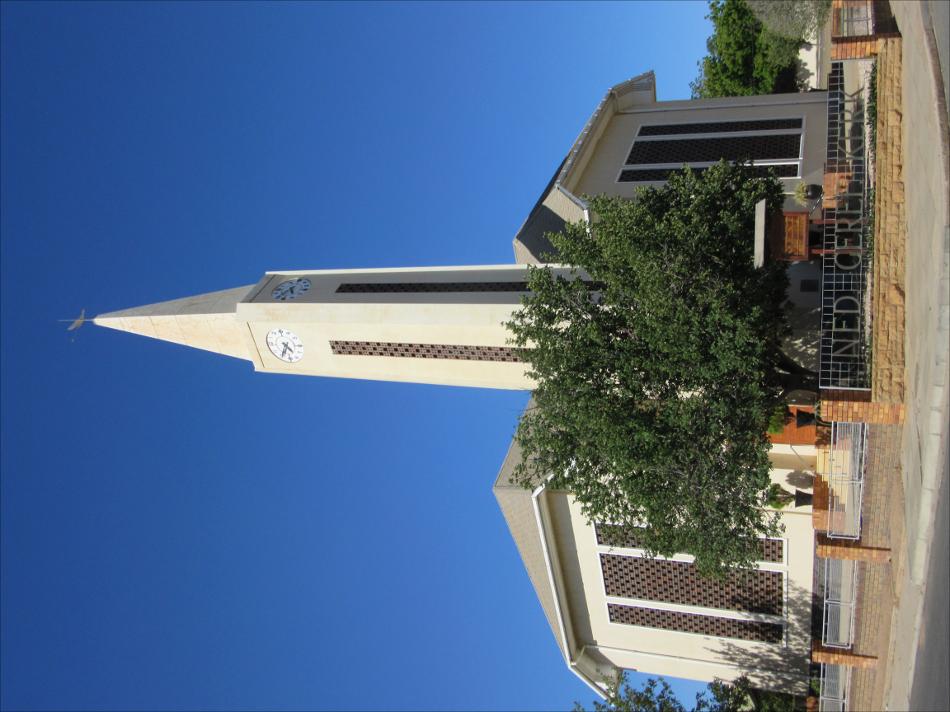 Author
Petit & Gebruder Edelbrock (Firm)
Format Extent
9 colour photographs
Rights
These items are subject to copyright protection. Reproduction of the content, or any part of it, other than for research, academic or non-commercial use is prohibited without prior consent from the copyright holder.
Stellenbosch University
Abstract
The Nederduits Gereformeerde Kerk in Clanwilliam has a rather modern bell from German origin. The only decorations are found just below the shoulder where it reads WILL. W. KEAY EN SEUNS KAAPSTAD VIR CLANWILLIAM. Below this sentence and on the waist below it figures 19 EMBLEM 63. The circular emblem surrounds the founder's seal. In the outer ring of the seal one reads ME FECIT: INGENIEUR HANS HUESKER while in the ring immediately around the seal the upper half circle reads PETIT & GEBR. EDELBROCK while in the lower half circle stands GESCHER – WESTF. This last word is an abbreviation for Westfalen, the district where the foundry has been located in Germany since 1690. The seal itself contains a tree that surrounds three bells. There are a fair number of bells from this foundry in the Western Cape, for example in the Nederduits Gereformeerde Kerke in Simondium and Eendekuil.
Related items
Showing items related by title, author, creator and subject.
Marloth, R. (Rudolf), 1855-1931

(

1932

)

Plate 59 from The flora of South Africa (vol. 3, part 2) featuring Compositae, Inuleae-Gnaphaliinae, -Athrixiinae, -Buphthalminae & Heliantheae.

Drawing depicting a Rolong homestead, after Casalis.

Marloth, R. (Rudolf), 1855-1931

(

1925

)

Plate 11 from The flora of South Africa (vol. 2, part 1) featuring Podostemonaceae, Pittosporaceae, Cunoniaceae & Myrothamnaceae.