Cederberg, Clanwilliam, United Reformed Church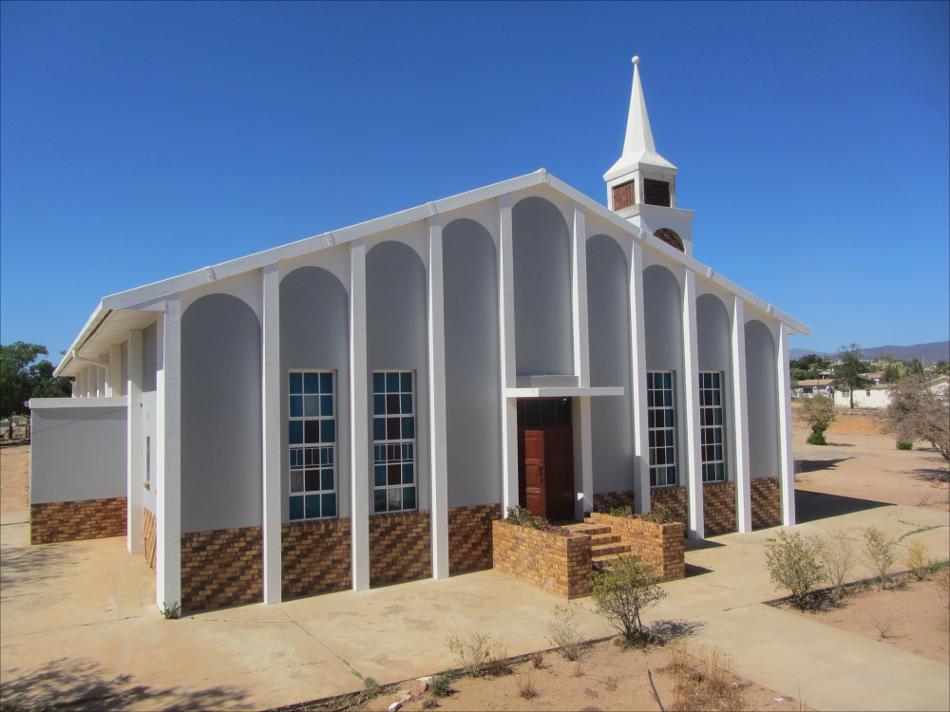 Date Created
1948
Format Extent
7 colour photographs
Rights
These items are subject to copyright protection. Reproduction of the content, or any part of it, other than for research, academic or non-commercial use is prohibited without prior consent from the copyright holder.
Stellenbosch University
Abstract
The United Reformed Church in Clanwilliam is a neat building with a bell tower in brick next to the church. In the tower hangs a bell that unfortunately could not be reached as the ceiling of the tower was sealed off on the inside. However, the church has a separate horseshoe type bell tower in which we found a bell that is clearly no longer used. The bell has a somewhat awkward shape with a thickness above the sound bow. There are no decorations on the bell apart from a three line text in bas-relief N. G. SEND. GEMEENTE. CLANWILLIAM. 1948. The building stone of the church informs us that the church was built in 1971. The bell is older than the church but according to the acquired information, this bell used to be hanging in the Nederduits Gereformeerde Kerk until that building got its new bell.
Related items
Showing items related by title, author, creator and subject.
Marloth, R. (Rudolf), 1855-1931

(

1932

)

Plate 59 from The flora of South Africa (vol. 3, part 2) featuring Compositae, Inuleae-Gnaphaliinae, -Athrixiinae, -Buphthalminae & Heliantheae.

Drawing depicting a Rolong homestead, after Casalis.

Marloth, R. (Rudolf), 1855-1931

(

1925

)

Plate 11 from The flora of South Africa (vol. 2, part 1) featuring Podostemonaceae, Pittosporaceae, Cunoniaceae & Myrothamnaceae.