SUNDigital will be offline for maintenance from 10:00 SAST on Tuesday the 20th of November 2018.
Zuid-Afrikaan 1870-04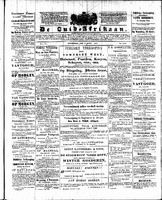 Date
1870-04
Date Created
1870-04-04
1870-04-07
1870-04-11
1870-04-18
1870-04-21
1870-04-25
1870-04-28
Rights
This item is subject to copyright protection. Reproduction of the content, or any part of it, other than for research, academic or non-commercial use is prohibited without prior consent from the copyright holder.
Abstract
First Dutch newspaper in South Africa.