Journaal gehouden in het schip Meyenbergh van het vaderland na Cabo de Goede Hoop
Journaal van't Compagnies oorlogschip d'Eendragt seylende van Batavia naar Patria anno 1743 de 16 October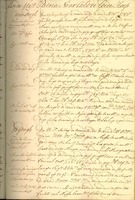 Date Created
1744
Format Extent
159 p.
Rights
This item is subject to copyright protection. Reproduction of the content, or any part of it, other than for research, academic or non-commercial use is prohibited without prior consent from the copyright holder.
Copyright Stellenbosch University
Abstract
Handwritten Dutch manuscript (ship's journal) of the voyages of the Dutch East India Company's ships "Meyenbergh" in 1728 and "d'Eendragt" in 1743. The manuscript also includes calculations ("reductio") and calculations with regard to the mathematical "rule of three".
Collections