Stellenbosch, Dutch Reformed Church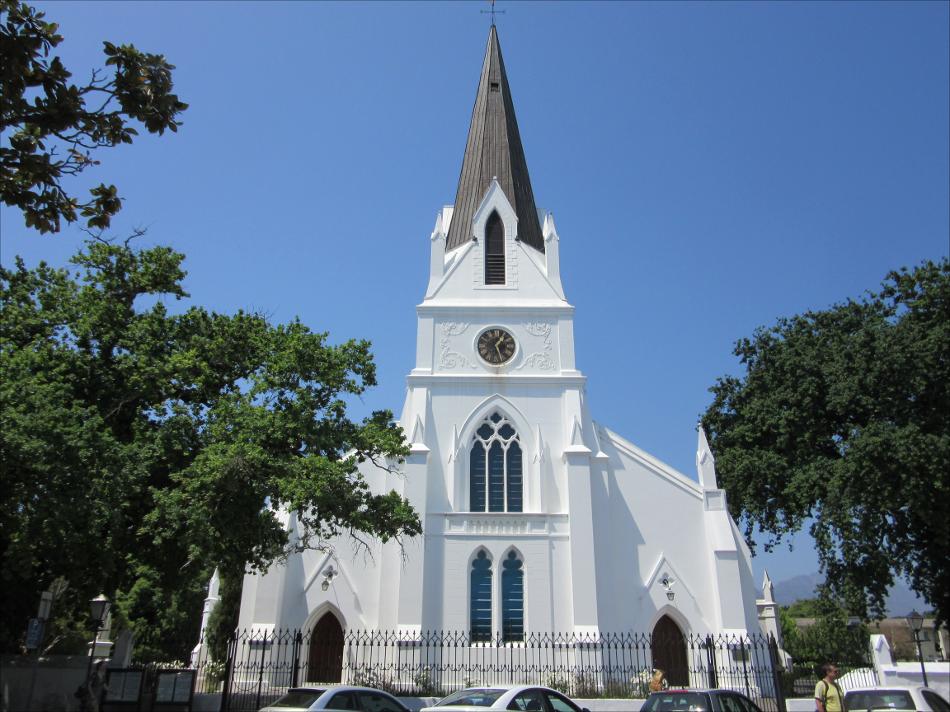 Date Created
1983
1985
1899
Format Extent
14 colour photographs
1 spreadsheet
Rights
These items are subject to copyright protection. Reproduction of the content, or any part of it, other than for research, academic or non-commercial use is prohibited without prior consent from the copyright holder.
Stellenbosch University
Abstract
Stellenbosch, Nederduits Gereformeerede Moedergemeente In the Dutch Reformed Moederkerk of Stellenbosch we find a set of 6 bells that replaced three former bells with a very interesting history. In 1863 the new and enlarged Moederkerk was consecrated. A short time later a tower was added and three new bells from Germany were installed. The largest bell Jan was given by Jan Martinus Beyers from the neighbouring wine estate Nooitgedacht, the middle one Flip by Philip Myburgh from Elsenburg, the smallest one Oubaas by Oubaas Beyers from Muldersvlei. The bells were cast by Friedrich Gruhl from Bautzen who was also the founder of the two beautifully cast bells in Genadendal. In 1902 the largest bell was replaced by a poor sounding steel bell from Bochumer Verein, the maker of the two steel bells on the Braak in the city and of the bells in the Evangelical Lutheran Church of Worcester. Two of these Gruhl bells now hang in a bell frame on the Beyers farm in the Overberg district in Riviersonderend. All bells carry the same minimal decoration on the front side. We find Gegiet deur Gebrüder Rincker vir die Moederkerk Stellenbosch 1983 with the year of founding of the second largest bell 1985. On the rear side we find the emblem of the founders. There is also an interesting soprano bell. This bell has a very nice sound. Thanks to the emblem on the shoulder we could pin down the founder. The foundry Otto Glockengiesserei was located in Hemelingen, a section of the German city Bremen. The foundry started in 1874 and has been active up to 1974 apart from the two periods of the World Wars. A bit of historic information on the foundry can be found on https://de.wikipedia.org/wiki/Glockengiesserei_Otto. Franz Otto started the foundry with his priest/brother Karl. One estimates that about 5000 bells have been cast by the foundry. The firm still has a seat in Bremen and can be reached via otto@otto-glocken-bremen.de. The bell dates from 1899 and is around 70 cm in diameter. The bell is used as hour clock and hangs above the 6 Rincker bells. The bell is fixed at the ceiling in the bell chamber and the clapper has been replaced by a hammer.
Related items
Showing items related by title, author, creator and subject.
Photographs and drawing depicting the front elevation, doorway as well as the upper door of Uitkyk at Muldersvlei.

Manuscripts Section, Stellenbosch University Library and Information Service

This index describes the Andreas van Wyk Collection and contains correspondence ; memorandums ; day planners ; agendas and minutes ; personalia ; speeches and commendatios ; financial statements ; reports. Prof. Andreas ...

Drawings depicting the deed of Kromme Rivier, Stellenbosch.