Ndebele vernacular architecture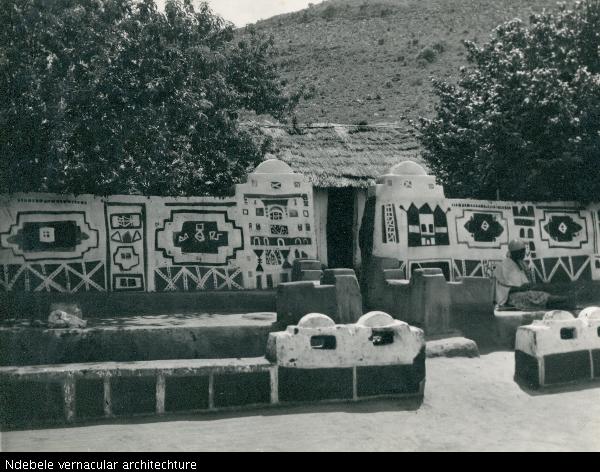 Author
Bowen, R. E. Cole (Robert Edward Cole)
Rights
This item is subject to copyright protection. Reproduction of the content, or any part of it, other than for research, academic or non-commercial use is prohibited without prior consent from the copyright holder.
Copyright James Walton
Abstract
Photographs depicting Ndebele vernacular architecture.
Related items
Showing items related by title, author, creator and subject.
Drawings of wall patterns, depicting detail of Transvaal Ndebele panels, early southern Sotho pattern (1877), Kwena decorations (Transvaal) and southern Sotho litema patterns.

Photographs depicting ancient stone kraals of North West Transvaal as well as ruins of very ancient stone kraals in the Orange Free State, as they appeared in 1865 but now nearly destroyed by the Boers to supply building ...

Drawing of Verdun, Northern Transvaal, depicting detail of pole and daga hut foundations, hut sites, a midden, stone walls, rock outcrops, Kgotla, the chief's seat, 2 habitation areas and cattle kraals.