Stellenbosch Discussion Forum Collection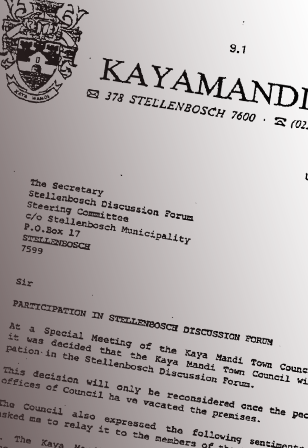 The Stellenbosch Discussion Forum (SDF) was a body of representatives from organisations from a cross section of Stellenbosch Community. They were active in 1993 and 1994 in discussions and deliberations of the future of Stellenbosch, taking in account the injustices of racial discrimination. Their aim was to bring about one non-racial and democratic local authority for Stellenbosch community and to heal divisions of the past. The Stellenbosch Discussion Forum Collection (MS 417) was donated to the Manuscripts Section of Stellenbosch University Library and Information Service by Victor Honey in 2011.
Items in this collection are subject to copyright protection. Reproduction of the content, or any part of it, other than for research, academic or non-commercial use is prohibited without prior consent from the copyright holder. Copyright Stellenbosch University.
Recent Submissions