Wie gryp kry 'n handvol : 'n kabaretkeur uit die werk van Hennie Aucamp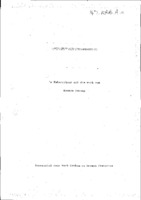 Author
Aucamp, Hennie, 1934-2014
Format Extent
50 p. [p. 25-26 missing]; pagination varies.
Rights
This item is subject to copyright protection. Reproduction of the content, or any part of it, other than for research, academic or non-commercial use is prohibited without prior consent from the copyright holder.
Copyright Stellenbosch University
Abstract
A selection of cabaret pieces. Includes additional documents, such as music, lyrics, programme of a cabaret symposium at Stellenbosch University and photographs.
Collections